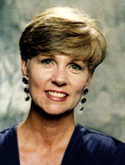 9/11 Pentagon Memorial Heroes
Diane M. Simmons
Born January 13, 1947, 54 years old
Diane M. Simmons of Great Falls, Virginia tragically lost her life on Tuesday, September 11, 2001, as a passenger on Flight 77, along with her beloved husband of 19 years, George W. Simmons.
Diane will always be remembered for her love of family and friends. She loved to travel, visit friends and family, and entertain at her home. Diane and George had an uncommon way of making all that visited their home feel like family.
Diane's grandchildren will miss her very special 'Nana Hugs.' She and Grandpa George spent countless amounts of time ensuring each child knew how much they were loved. The grandchildren were their pride and joy.
Diane was a very loving wife, grandmother, mother, sister, aunt and friend who always seemed to know when to give a big hug, kind word or how to make a loved one feel special. Diane loved to cook and some of the best meals at 'Chez Nana' were created while she was experimenting.
Diane will be missed by all who knew her. She will be remembered as the ray of sunlight that brightened even our darkest days with her beautiful smile and laugh.
9/11 Pentagon Memorial Heroes
Meet the Heroes
The Pentagon Memorial was created to remember and honor those family members and friends who are no longer with us because of the events of September 11th, 2001 at the Pentagon.