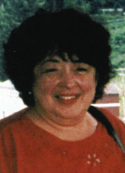 9/11 Pentagon Memorial Heroes
Rosa Maria Chapa
Rosa Maria (Rosemary) Chapa was born on April 6, 1938 in San Antonio, Texas. Following her graduation from Thomas Jefferson High School in San Antonio, she attended the Incarnate Word University in San Antonio, where she studied Personnel Management.
Rosemary began her federal career in 1970 as a clerk-typist at Ramey Air Force Base, Puerto Rico. She held several positions in the Federal Government, working her way up to her position as a senior management officer in the Office of the Deputy Comptroller for Force Structure and Management, Office of the Comptroller, Defense Intelligence Agency (DIA). She was responsible for ensuring that critical manpower information flowed smoothly from the Force Structure Evaluation System into the position management module of the agency's human resources system. Prior to her 1997 arrival in DIA, she served as a civilian with the Department of the Air Force, the Defense Logistics Agency, and the Joint Chiefs of Staff. During her 31-year career, Rosemary received numerous awards and honors but, according to her family, the shining star of her awards was the Joint Meritorious Civilian Service Award, awarded by the Chairman of the Joint Chief of Staff (JCS) for her service in the JCS.
Rosemary and her husband, José, were married on November 26, 1955 in San Antonio, Texas. Rosemary's family will remember her for her love; as they recalled, "she loved her family more than anything, especially her two dogs, Penney (a beagle) and Luckey (an all-American). Despite her busy career, her family always came first. At Christmas she never failed to be persuaded by her kids and husband to make homemade tamales."
Ms. Chapa is survived by her husband, José, and their children, Grace, Julie, Elza, Roger and John; her father, Manuel Faz; sisters, Mary Gomez and Elza Guajardo; brothers, Gerald and Cesar Faz; and five grandchildren, Kelley Ellis, Jennifer, Monica, Karisa and Daniel Chapa.
9/11 Pentagon Memorial Heroes
Meet the Heroes
The Pentagon Memorial was created to remember and honor those family members and friends who are no longer with us because of the events of September 11th, 2001 at the Pentagon.