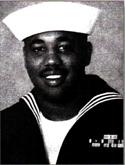 9/11 Pentagon Memorial Heroes
IT2 Kevin W. Yokum, USN
Born October 7, 1973, 27 years old
Kevin Yokum was a Petty Officer 2nd Class in the U.S. Navy serving at the Pentagon in Washington, DC, as an intelligence officer. Kevin, 27, was among those killed at the Pentagon on September 11 after terrorists hijacked and crashed a jet airliner into the huge building. Allen and Beulah Yokum of Lake Charles, Louisiana, his parents, waited for days after the attack before they received word that their son had been killed.
Kevin grew up in Lake Charles and graduated from LaGrange High School. He was well liked by his classmates, who remembered him at a recent high school reunion. "He liked sports a lot," his father said, particularly basketball. "He would pick out players and see who was going to be in the first draft."
Kevin joined the Navy right out of high school. He was stationed in San Diego and traveled the world, but would come home to Lake Charles once or twice a year, his father said. He had been stationed at the Pentagon for the past three years and lived nearby in Maryland.
His death shows us that we are not immune to what happens in other parts of the country. We are a Nation of lives interwoven; we are united states. It's been hard for us to make sense of the past three weeks and the effect the attacks have had on us. But one thing is certain: Kevin Yokum is a true hero – as are all of the military personnel and civilians who were killed and injured that fateful September day at the Pentagon. He knew when he first put on the Navy uniform that he could be called at any time to step into harm's way to defend his country.
He knew this when he went to work that day – September 11 – at the Pentagon because those in our armed forces are expected to put their lives on the line if needed. They are our protectors.
Allen Yokum said that his son had lived a good life.
"I am so proud of him, especially since he did serve his country. Kevin was a young man who was strong of character, honest, and one who always wanted to encourage and help other people," he said about his son.
We should all be proud of Kevin Yokum because he represented all that is good about our community.
Let's keep the Yokum family in our prayers and thoughts today as they cope with the loss of their son.
9/11 Pentagon Memorial Heroes
Meet the Heroes
The Pentagon Memorial was created to remember and honor those family members and friends who are no longer with us because of the events of September 11th, 2001 at the Pentagon.