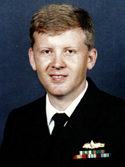 9/11 Pentagon Memorial Heroes
LCDR Robert R. Elseth, USNR
After graduating from the Ohio State University in 1987, Bob received his commission. He was first assigned as a junior officer in engineering on the U.S.S. Claude V. Ricketts (DDG-5) from May 1988 to October 1989. He then served as the Gunnery Officer on the U.S.S. Donald B. Beary (FF-1085) from November 1989 to June 1991. Bob qualified as a Surface Warfare Officer in April 1990. Both ships were stationed at Norfolk, Virginia. He subsequently served as an Instructor in Boiler Water/Feedwater at the Surface Warfare Officer School in Newport, Rhode Island from July 1991 to August 1994. While at Surface Warfare Officer School, Bob was recognized as the 1994 Junior Officer of the Year for Newport Naval Ashore Commands. He was certified as a master training specialist in October 1992 and graduated from the Naval War College in June 1995. His final active duty assignment was as Chief Engineer on the U.S.S. John Rodgers (DD-983) from May 1995 to May 1997, stationed at Mayport, Florida.
Bob left active duty in July of 1997 to spend more time with his family. He continued to serve in the Naval Reserves in the Supervisor of Shipbuilding Conversion and Repair Detachment 306, from February 1998 to September 2000. For his last year in the unit he served as the Executive Officer. He then served in the Naval Command Center beginning in October 2000.
Bob was active in his church as a Sunday school teacher and also coached girls' soccer. In 2000, along with friends, Bob was a founding partner of Delta Resources Inc., a defense consulting firm.
9/11 Pentagon Memorial Heroes
Meet the Heroes
The Pentagon Memorial was created to remember and honor those family members and friends who are no longer with us because of the events of September 11th, 2001 at the Pentagon.