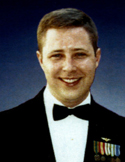 9/11 Pentagon Memorial Heroes
LCDR Eric A. Cranford, USN
Eric Cranford was born and nurtured in the little town of Drexel in the foothills of the Blue Ridge Mountains of North Carolina. From an early age he was excited about learning. His mother likes to tell of finding him, at the age of three, standing at the street in front of his home with three books under his arm. When asked what he was doing he replied, "I am waiting for the school bus."
He was active in the youth group of his church. There, at the age of twelve, he was baptized in his Christian faith. There, too, he formed lasting friendships. Among those was Emily Cozort. Emily, the love of his life, he would marry.
Eric became an Eagle Scout, and later became a waterfront instructor at the summer scout camp "to give something back to scouting."
Upon graduation from high school, he was selected for enrollment in the Air Force Academy, but elected instead a Naval ROTC Scholarship at North Carolina State University. After graduating with a double major in Political Science and Economics, he was accepted for naval flight school. Flight training was in Pensacola, Florida and Corpus Christi, Texas. In the waiting period before flight school began, Eric worked in the National Museum of Naval Aviation in Pensacola. There he was asked to model for the World War II pilot in the Spirit of Naval Aviation Statues, now commanding the entrance to the museum.
After his flight training and the receiving of his wings, Eric opted to train as a helicopter pilot. During two tours in the Persian Gulf, he flew off the U.S.S. Gettysburg and the U.S.S. Carr. Throughout his training and assignments, he met and developed lasting friendships with men now serving our Nation both at home and throughout the world.
Eric's last land tour was an assignment to the Pentagon. He enjoyed the challenge of his work in the Naval Command Post, during which he was selected as Lieutenant Commander. Pursuing learning still, in the evenings he completed half of the required hours toward his MBA through the University of Maryland.
Eric was a patriot. He was proud to be an American and he was proud to be a naval helicopter pilot helping to defend the American way of life. This was made powerfully clear by thoughts he wrote in his personal journal on D-Day Memorial Day. On June 6, 1994, he wrote:
Imagine a cause where a nation would agree that the cause was worth risking everything. If everything were to be lost, then that would be justified because failure was less acceptable than death.
9/11 Pentagon Memorial Heroes
Meet the Heroes
The Pentagon Memorial was created to remember and honor those family members and friends who are no longer with us because of the events of September 11th, 2001 at the Pentagon.