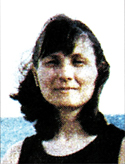 9/11 Pentagon Memorial Heroes
Norma Lang Steuerle
Born May 1, 1947, 54 years old
Norma Lang Steuerle, 54, loved serving the community through her job as a clinical psychologist and through her church, but she also loved to travel.
When her husband, C. Eugene Steuerle, signed up recently to teach a seminar in Singapore, and her daughter, Kristin, 28, was shipped to Okinawa as a Navy doctor, the Alexandria resident found herself with an opportunity to travel and catch up with family.
"She was so excited about going," said her daughter, Lynne, 24, an actuarial consultant. On Tuesday, Steuerle was flying to Japan to rendezvous with her family and then visit Thailand. The first leg of her flight was American Airlines Flight 77 from Dulles to Los Angeles.
Born in Pittsburgh, Steuerle was valedictorian of her class at Carnegie Mellon University, held a Master's degree from Temple University, and a Doctorate from the University of Wisconsin.
She met her husband at the University of Dayton before she transferred to Carnegie Mellon. The two were married after Eugene Steuerle returned from service in Vietnam. He became a prominent national tax and economic policy expert and is now a senior fellow at the Urban Institute.
The vivacious, petite woman was known for her interest in community service, particularly through the Blessed Sacrament Catholic community and her daughters' schools. The couple moved to Alexandria after graduate school, when she was hired at Children's Hospital, and her husband took a government job.
She practiced in Old Town Alexandria for many years before opening an office in Annandale.
She had a "fabulous sense of humor," said Carolyn Lawlor, a teacher and school director. Lawlor said she would call Steuerle for advice when a young student was having a problem. "I always thought of her as a very wise woman," Lawlor said. "She had that extraordinary ability, when a person walked into her space, to make them feel immediately comfortable, like an old friend."
9/11 Pentagon Memorial Heroes
Meet the Heroes
The Pentagon Memorial was created to remember and honor those family members and friends who are no longer with us because of the events of September 11th, 2001 at the Pentagon.