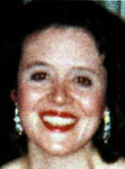 9/11 Pentagon Memorial Heroes
Shelley A. Marshall
Born November 16, 1963, 37 years old
Shelley Ann (Farr) Marshall was born on November 16, 1963 in Washington, DC. She grew up in Vienna, Virginia and graduated from Oakton High School, where she was on the honor roll for four consecutive years. Shelley started her undergraduate studies at Mary Washington College, then transferred to George Mason University, where she graduated in 1987 with a Bachelor of Science degree in Public Administration. Shortly thereafter, she joined the Defense Intelligence Agency (DIA) in September 1987 as a human resources manager in the Manpower and Position Management Operations Division, Office for Human Resources.
Shelley was selected for an administrative officer position in April 1993, in the Counterdrug Analysis Office, Transnational Warfare Group, and stayed there until May 1999 when she accepted a position as a senior management officer in the comptroller's office. Throughout her career with DIA, Shelley received numerous awards for her distinguished performance. 
Shelley and her husband, Donn, met while they both worked in the Office for Human Resources. They were married on May 20, 1994 in Leesburg, Virginia, and have two children, Drake, 3, and Chandler, 11/2. Shelley and Donn had a happy seven-year marriage. She enjoyed making scrapbooks, cataloguing her memories, and having tea parties. Shelley was passionate about life, work and her family. She was a kind person and a devoted mother who read to her children every night after a long day at work. She would do anything for her kids. Donn plans to have a tea party after Shelley's memorial service and he will also create story hours at local libraries in her honor. He plans to keep her memory alive in every way he can. 
Ms. Marshall is survived by her husband, Donn; their son, Drake; and daughter, Chandler. She is also survived by her parents, Mack and Nancy Farr; and two brothers, Mark and Robert.
9/11 Pentagon Memorial Heroes
Meet the Heroes
The Pentagon Memorial was created to remember and honor those family members and friends who are no longer with us because of the events of September 11th, 2001 at the Pentagon.