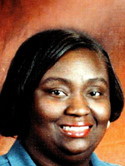 9/11 Pentagon Memorial Heroes
Antionette M. Sherman
Born December 31, 1965, 35 years old
Antionette Sherman, 35, died of her injuries at Washington Hospital Center's burn unit. But loved ones said the extra days they had with her were a gift.
"She knew we were there. She would move her head," said Vincent Edwards, 39, Sherman's close friend, who was in the waiting room when she died. "She knew she wasn't alone."
Sherman's parents, Eloise and Charles Clark Edwards, her foster son and others had also begun to hope that she might pull through. Sherman was lucid when she was wheeled into the hospital shortly after the attack, authorities told her family. But after surgery a few hours later, she never opened her eyes again.
"I had just talked to her about 8:45 a.m. at her office," said Angela Walker, Sherman's best friend. "We were preparing to go on a cruise next month, and she was coordinating it. We were making plans."
As Sherman lay in the hospital, Walker tried unsuccessfully to get the travel agency to delay the trip. "We were concerned she wouldn't be well enough to travel by then, but they wouldn't give us a postponement. They were awful about it. They probably won't do it now either."
After her death, friends gathered in the living room of Sherman's Forest Heights home with her beloved dogs, Oreo and Rex, and waited for her foster son to get off the school bus so they could break the news to him.
On the sofa lay a note from friend, Karen Johnson, who had sent over an Aretha Franklin gospel CD earlier this week. She asked Sherman to listen to two songs: "God Will Take Care of You" and "Give Yourself to Jesus."
"Toni, I know you are afraid . . . but I'm here to tell you it's okay to be afraid," the note began. It ended: "Please, don't give up."
9/11 Pentagon Memorial Heroes
Meet the Heroes
The Pentagon Memorial was created to remember and honor those family members and friends who are no longer with us because of the events of September 11th, 2001 at the Pentagon.