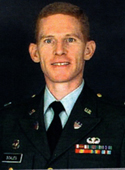 9/11 Pentagon Memorial Heroes
COL David M. Scales, USA
Born September 27, 1956, 44 years old
David M. Scales was a perfectionist who couldn't rest until every job was finished. He showed up early to work and regularly stayed late.
But the 44-year-old colonel with the Army Reserve always put his family first; in the minutes before his office in the Pentagon was destroyed, he sent an e-mail to his wife in Arizona. She fired back a reply.
"It may have been what he was reading when the terrorist attack occurred," Patricia Scales said.
Scales was "an extremely professional, dedicated officer," said COL Dan Blakeney. With his red hair and ever-present smile, he was well known in the Washington area Army Reserve community.
Scales was assigned in May as the personnel policy integrator in the deputy chief of staff's office, working at the highest level of Army personnel policy after a distinguished career with the Army Reserve. Scales focused on a number of initiatives that affect the readiness of the Army Reserve.
"If I had to describe him in one word, the word would be 'brilliant,' " said Marian Berrios, his former boss.
Scales, a talented pianist, graduated from the University of Cincinnati with a degree in Music Composition. He received an MBA from Southern Illinois University. He was commissioned through Army ROTC in 1978, serving in Sharonville, Ohio, before going to South Korea in 1979 as an ambulance platoon leader. He later served in Denver; Aurora, Colorado; St. Louis; and at Fort Monroe, Virginia.
Scales's wife said his smile "lit up the room." She described him as "a loving, faithful husband and a dedicated father who always found the silver lining in every dark cloud."
Patricia Scales said she and her husband would often talk for hours on the telephone. Scales would make up stories for his 12-year-old son, Ashton, and spent a week with him at Busch Gardens in July.
"We sorely miss his sense of humor and the joy that was so obvious when we were together," Patricia Scales said.
9/11 Pentagon Memorial Heroes
Meet the Heroes
The Pentagon Memorial was created to remember and honor those family members and friends who are no longer with us because of the events of September 11th, 2001 at the Pentagon.