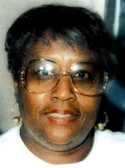 9/11 Pentagon Memorial Heroes
Ada M. Davis
The meaning of extraordinary: an illustration of exuberance, the definition of strength, and a model of love . . . Ada Marie Davis was all of these, encompassing one incredible woman. On November 7, 1943, God blessed this world again with a creation so undeniably refreshing and exhilarating, still, no man or woman could possibly know the depths with which she would make a difference in the world. Born to Jobe and Ida Mae Davis, she was the first of a long lineage of Davis children, the oldest of ten beautiful children. Taking on her natural role as a caretaker and provider, she helped her mother and father raise her younger brothers and sisters while preparing to start a family of her own.
Together, Nolton and Ada bore four children, three girls and one son. As a working mother, she sought the best in life for all of her children. Seeing to their education and ultimate success in life was her eternal goal. College was not an option; it was an opportunity that she would provide for her children.
For thirty-one years, Ada Marie Davis worked diligently and faithfully in government service as an Accounting Technician and, later, to full Accountant after successfully acquiring her Associates degree. She worked at the Pentagon under the Secretary of the Army, Resource Management, for over six years and put off retirement twice to ensure her successor was truly prepared to handle the job once she left.
She leaves behind her loving husband, Nolton Jr.; four beautiful children, Zenovia, Yolanda, Rosslyn and Christopher; three admiring sisters, Christine, Sue and Georgia; three appreciative brothers, William, Norris and Philip; two adoring grandchildren, Brenden and Bethany; a son-in-law, John Cuyler; many aunts, uncles, cousins, nephews and nieces; and a myriad of friends and loved ones.
Ada Davis influenced the lives of many people. Her creativity, patience, strong will, determination, love for all, and jubilant vigor for life left its mark on everyone she encountered. Ada will forever be remembered for many things: a wife . . . a friend . . . a patriot . . . a leader . . . a godmother . . . a grandmother . . . a mother. With her legacy of love and compassion firmly embedded in the hearts of all she touched, Ada Davis moves on from this world. Her absence will be noted, her memory will be glorified, and her love shall endure.
9/11 Pentagon Memorial Heroes
Meet the Heroes
The Pentagon Memorial was created to remember and honor those family members and friends who are no longer with us because of the events of September 11th, 2001 at the Pentagon.