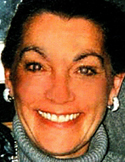 9/11 Pentagon Memorial Heroes
Ann C. Judge
Born December 28, 1951, 49 years old
Ann Campana Judge, 49, of Great Falls, Virginia, arranged trips around the world for National Geographic Society writers, photographers and executives.
That is how she came to be aboard American Airlines Flight 77 with three DC public school students and three teachers on a National Geographic-sponsored field trip to the Channel Islands in California.
She was born in New York City, graduated from Ohio Wesleyan University, and had been with National Geographic for 22 years. Colleagues recalled her enthusiasm for travel, her passion for geography, and said she took care of their travel glitches with ease. 
"Ann Judge is an extraordinary lady – well known and loved by almost everybody here at National Geographic," said John M. Fahey, Jr., president and chief executive of the society.
Fahey recalled a trip he took to Israel – the one during which he spilled red wine on his khaki pants and the airline lost his luggage. Judge intervened to make sure the luggage made its way to him, he said. "She was able to track it everywhere and knew exactly when it would arrive," Fahey said.
James L. Stanfield, a longtime photographer for National Geographic, said Judge once created a year-long, 20-page itinerary for him that included flight, ground transportation and hotel plans. Nothing went wrong.
He recalled a trip to a Greek island during which his back went out. Judge arranged a flight on a plane with a bed. Then she and her husband, Geoffrey, met him at the airport and took him to their house to recuperate for several days.
On Thanksgiving, she would often invite single co-workers home to dinner, he said. "If you were not with your own family, this was the invitation that you wanted to receive, because it put Bon Appétit to shame," Stanfield said.
9/11 Pentagon Memorial Heroes
Meet the Heroes
The Pentagon Memorial was created to remember and honor those family members and friends who are no longer with us because of the events of September 11th, 2001 at the Pentagon.