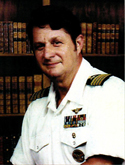 9/11 Pentagon Memorial Heroes
CAPT John D. Yamnicky, Sr., USN, Retired
Born June 8, 1930, 71 years old
Captain John D. Yamnicky, USN (Ret) was a passenger on American Airlines Flight 77, which crashed into the Pentagon on 11 September 2001 ending his life.
Yamnicky was described by friends as a "magnificent man devoted to his faith, his family and his country."
Born in Barren Run, Pennsylvania in 1930, John attended McKeesport Pennsylvania High School, a football powerhouse where John was a standout on a team which won the state championship and then played in the Scholastic Orange Bowl on Christmas Day 1947. He also played basketball and set records as a member of the championship 880-yard relay team. John was a scholar athlete with an outstanding academic record sought after by numerous schools. He was a key member of the Naval Academy team that defeated Army 14-2 in the 1950 Classic.
John was a jewel in the Navy and Naval Academy crown, a warrior who fought in Korea and flew three combat tours in Vietnam. After the Gulf of Tonkin incident, John flew some of the first strikes in North Vietnam. Then, following a year at the Naval War College in Rhode Island, during which he also earned a Masters degree in International Affairs, John returned to Squadron 172 as executive officer, later as commanding officer.
Shortly after graduation, John was an assault wave commander carrying Marines ashore in Korea and then began a career in naval aviation, which resulted in more than 900 aircraft carrier landings. Only those who have landed a high performance jet aircraft aboard a pitching, rolling aircraft carrier deck, operating in thunderstorm seas at night, can truly appreciate that achievement. Fellow aviators described him as an "exceptional fighter pilot who you wanted on your team when the chips were down."
John was a test pilot's test pilot. A graduate of the Naval Test Pilot School at Patunxent River, John was later director of the school. In recognition of his splendid work there, he was elected to be a member of the Society of Experimental Test Pilots.
Retiring in 1979, John became a consultant to the Test Center at Patuxent River. On 11 September 2001, John was enroute to China Lake, California to work on a missile program.
His salient characteristics were his humility and lack of self. He turned down a major command so that he could be a father during the development stage of his four children, John David, Lorraine, Mark and Jennifer, and to help his wife, Jann, after so many years of combat and non-combat sea duty.
A devout Roman Catholic, John was a past grand knight and rose to the highest degree of the Knights of Columbus Order. He was on the board of directors of Saint Mary's Academy and Ryken High School and was instrumental in their merger. He also was a member of the Elks Lodge 2092.
Mark Twain wrote that one should live so that when one dies, even the undertaker would be sorry. There were 1,200 people at John's memorial service – some standing on the sidewalk.
John D. Yamnicky's life was a gift to the Navy and the Nation. The sage who asked, "where do we get such men?" was surely thinking of John Yamnicky – one of the very best.
9/11 Pentagon Memorial Heroes
Meet the Heroes
The Pentagon Memorial was created to remember and honor those family members and friends who are no longer with us because of the events of September 11th, 2001 at the Pentagon.