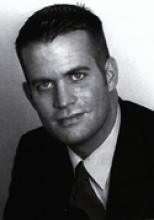 9/11 Pentagon Memorial Heroes
Paul W. Ambrose
Born December 26, 1968, 32 years old
Paul Wesley Ambrose was the son of Sharon Norwood Ambrose and Kenneth Paul Ambrose of Huntington, West Virginia. In addition to his parents, Paul is survived by his fiancée, Bianca Angelino, of Washington, DC; his grandmother, Mrs. Dorothy M. Norwood, of Huntington; and nieces, Alexandria Kyle Ambrose and Britany Miller; along with many other relatives and a host of beloved friends and colleagues.
Paul graduated magna cum laude in 1991 from Marshall University with an undergraduate degree for a dual major in Biological Sciences and Spanish. During medical school, he spent a year of study in Spain (1993 to 94). Paul completed 36 hours of study in public health policy, preventive medicine and health economics at the University of Salamanca in Salamanca, Spain. He received his M.D. from the Marshall University School of Medicine in 1995. From 1995 to 1996, he served as National Director of Legislative Affairs for the American Medical Student Association, which has 30,000 members. Paul was honored with their Lifetime Achievement Award.
Paul completed his resident work at Dartmouth Medical School in the Department of Community and Family Medicine. During this time he was a member of the Council on Graduate Medical Education; a federal body which makes recommendations to Congress and the Secretary of Health regarding medical education and the supply and distribution of physicians. He was one of 17 appointees and the only resident on the council. Mike Zubkoff, Chairman of Dartmouth Community and Family Medicine, spoke with Paul on September 10, 2001, to share with him that the governing board approved the Preventive Medicine Residency/Fellowship Program, which he and Wayne Dysinger first proposed in 1996. "I reminded Paul once again of our desire for him to rejoin us at Dartmouth once he finishes up his work with the Surgeon General. He responded, 'That would be a dream come true…' shortly after which he asked, 'Mike, do you really think Dartmouth is ready for someone as impatient as me?' "
While at Dartmouth, Paul became acquainted with C. Everett Koop. Paul and some of his colleagues saw a need for a Resident Physician Leadership Conference and the Koop Institute helped launch it. At the last minute Paul named this endeavor, "The C. Everett Koop Resident Physician Leadership Symposium." Dr. Koop has now renamed the annual symposium after Paul. Dr. Koop wrote, "Paul had the ability to put as much effort into four or five projects simultaneously with the same zeal you and I would put into one. He was sensitive, self-giving, the very model of what a physician should be to his patients, but his vision extended to the public health community whether local or global. I have never talked with anyone about Paul without that person having words of extravagant appreciation for Paul the man and Paul the public servant… I have no doubt Paul would have gone on to roles of Surgeon General of the United States, the cabinet position of HHS, Senior Delegate to the World Health Organization and, eventually, be Dean of a major school of public health."
Paul got his Master's in Public Health in the Family and Community Health Concentration at the Harvard School of Public Health in 2000. This concentration focused on the promotion of health and the prevention of disease in populations by preparing health professionals with leadership skills in public health.
Paul was also a 'Cancer Prevention Fellow' in the 'National Cancer Institute Educational Program in Prevention at the Harvard School of Public Health,' a joint fellowship between the Harvard School of Public Health and the Dana-Farber Cancer Institute. The project for this Fellowship was a study on the access, faith, and use of health services in Appalachia (in West Virginia) entitled "The Lincoln County Breast Cancer Prevention Project."
Paul was the seventh Luther Terry Fellow of the Association of Teachers of Preventative Medicine and Senior Clinical Advisor in the Office of Disease Prevention and Health Promotion since June 2000. He worked closely with the Surgeon General's office on the "Call to Action" on overweight and obesity. In fact, he was going to a conference in Los Angeles dealing with this problem on September 11, 2001. He was posthumously awarded the Surgeon General's Medallion for his work on the "Call to Action." The Secretary of Health and Human Services, Tommy G. Thompson, wrote, "Paul's colleagues… will always remember him for his dedication to his work, and his gentle personal qualities of friendliness and willingness to help others. His natural inquisitiveness made him a pleasure to work with. He was an outstanding role model for the preventive medicine residents he supervised in their rotations through the Office of Disease Prevention and Health Promotion."
Paul put into practice his views on health care. The Secretary also wrote, "His strong commitment to work with those who often have the least and can benefit the most was reflected in his work during evenings and weekends at a clinic in Arlington, Virginia, that served mostly immigrants from Central America. Paul had already made so many contributions in his life, and he clearly had the potential to give so much more."Paul had a host of friends from all walks of life. From the telephone operators in the hospital to the Surgeon General of the United States of America. From the janitor in his gym to childhood friends from elementary school. Friends around the world. In the memorial service for Paul, many remarked how he had encouraged them to reach dreams they felt were unreachable. He loved life, learning, his work, his family and friends. Paul Wesley Ambrose was a unique individual who had so much to offer the world. His life as a son, fiancée, grandson, uncle, physician, and friend was too quickly ended.
9/11 Pentagon Memorial Heroes
Meet the Heroes
The Pentagon Memorial was created to remember and honor those family members and friends who are no longer with us because of the events of September 11th, 2001 at the Pentagon.