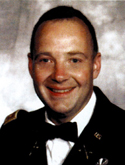 9/11 Pentagon Memorial Heroes
LTC Jerry D. Dickerson, USA
If there were a definition of Army values in the dictionary, Jerry D. Dickerson's picture would sit right next to it, said a longtime friend and fellow military man, Lt. Col. Glenn W. Harp.
"For him, it was selfless service," Harp said. "He cared more for others than he did for himself."
Family and country came first for Dickerson.
The 41-year-old lieutenant colonel was working at the Pentagon when it was struck by one of Tuesday's hijacked planes. Dickerson, who is reported among the missing, worked on operations research and systems analysis. "He was a key player in molding and shaping the future of the United States Army," Harp said.
Dickerson lived with his wife, Page, and two children, Will, 11, and Beth, 15, in Springfield. He was born in Mississippi, studied economics at Mississippi State, and received a Master's degree in Engineering from Texas A&M University.
He started out in ROTC, then served in the National Guard and joined the Army in 1983, said his brother-in-law, David Dantzler.
He may not have been well known among civilians, Dantzler said, "but he had an immediate impact on anybody he met along the way."
9/11 Pentagon Memorial Heroes
Meet the Heroes
The Pentagon Memorial was created to remember and honor those family members and friends who are no longer with us because of the events of September 11th, 2001 at the Pentagon.